Yesterday felt like the first official day of the new year to me, mainly because it was a very regular day. I'm not going to lie, it was a little hard to get moving for me in the morning. I think I got a little too used to the relaxed vibe of the holidays.
My day began curled up in bed with my devotional before I came downstairs to get a jump start on work. I said goodbye to Ryan around 7 a.m. and once Chase was up for the day, I made the two of us breakfast. Chase requested Cheerios (he's obsessed with the new Banana Nut Cheerios), so his breakfast was a breeze.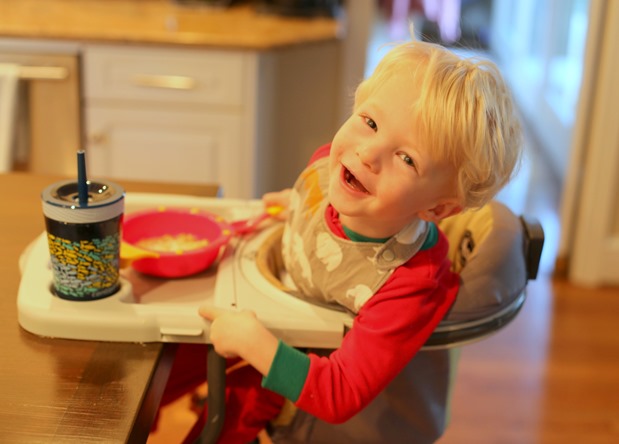 I was craving something on the savory side and ended up making myself a plate of toast topped with guacamole, two fried eggs, turkey bacon and green onion. I served it up with a side of sliced cherry tomatoes in an effort to add a little color and lycopene to my plate.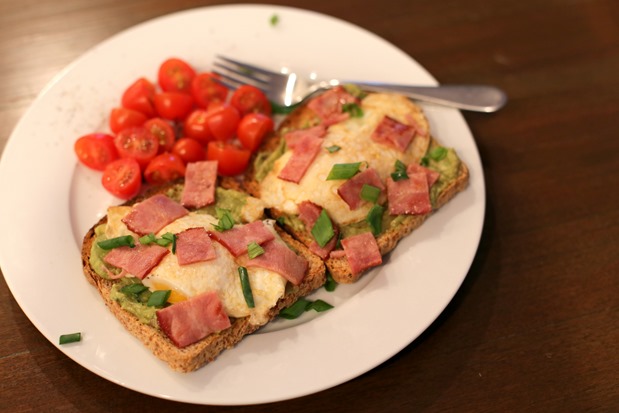 Once we were both fed and happy, Chase seemed content to play with his new train table so I did a little food prep in the kitchen. (Remind me to hug my mother-in-law hard when I see her next because the train table she gave Chase has been amazing for independent play and imagination.) I made a batch of hard boiled eggs, chopped up some veggies and began whipping up some whole wheat pumpkin muffins for Chase. 
Chase helped make the muffins and we both ate one fresh out of the oven once they were done. A perfect midmorning snack!
After our snack, we got dressed for the day and headed off to visit a friend for a play date and run a couple of errands that mostly centered around holiday-related returns and exchanges. We made our way back home around 1 p.m. and Chase ate lunch before we played indoor fetch with Sadie and dug into some Christmas toys.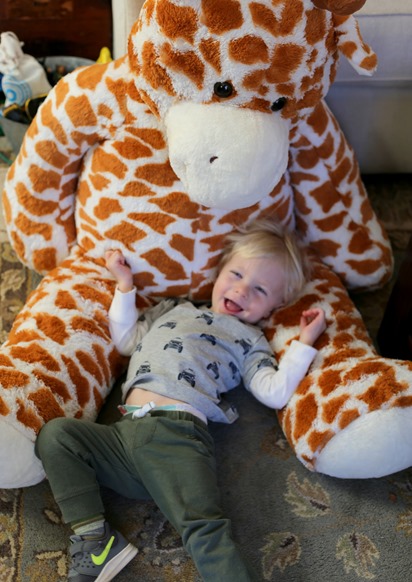 Bless all of you who told me to go back and get the giant $30 giraffe for Chase for Christmas. He loves it so much! Yesterday he said, "Mama, my giraffe SO CUTE" and it was just way too adorable. After some giraffe cuddles, Chase went down for his nap and I made myself a quick lunch.
I threw together a Thai Crunch Salad which was initially supposed to be our dinner but the flavors of the Thai peanut dressing called to me.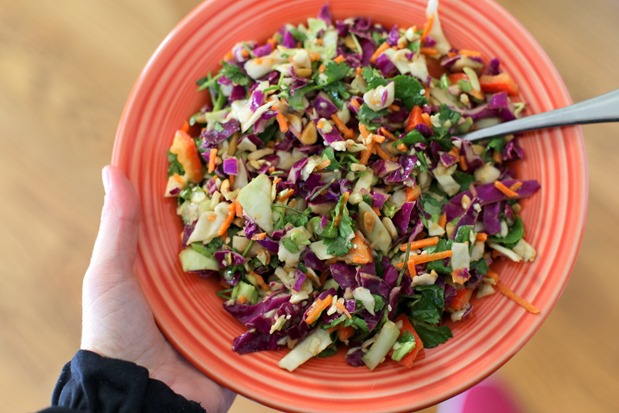 You guys HAVE to make this recipe! It was so darn good and I could not get over how much I loved it. The salad truly tasted like a salad I'd order at a restaurant! (Small note: I doubled the cilantro and omitted the chicken. I also used my beloved salad chopper to finely dice everything because chopped salads = the best salads.)
As I ate, I began working on an upcoming blog post and then responded to emails on the couch with Sadie snuggled by my side before sending off some tax documents.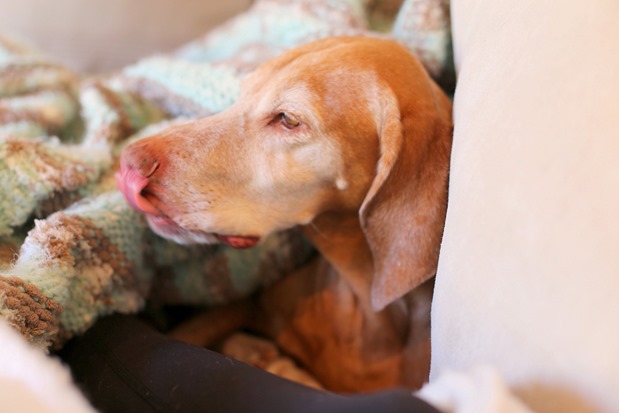 Chase ended up napping like a champ yesterday which was great but it also meant I missed my afternoon workout date with my friend Lauren which was a bit of a bummer. I didn't want to wake him up so yesterday ended up being a rest day from the gym. Back to the grind today!
Once Chase was up, we both ate a larabar, read a bazillion books (he is in love with this Pete the Cat collection) and played outside with Sadie for a hot second (it was FREEZING yesterday) before Ryan called to say he was on his way home.
By the time dinner rolled around, I wasn't sure what to make since I ate half of my initial dinner plan for me and Ryan at lunch. I ended up throwing together some frozen veggies, rice, chicken and Korma Simmer Sauce I picked up a while ago at ALDI in a skillet and we actually loved the random combination of flavors.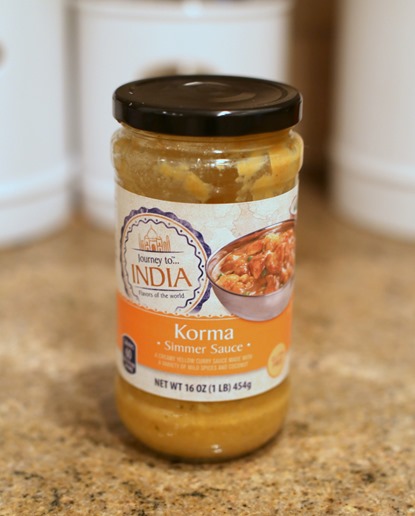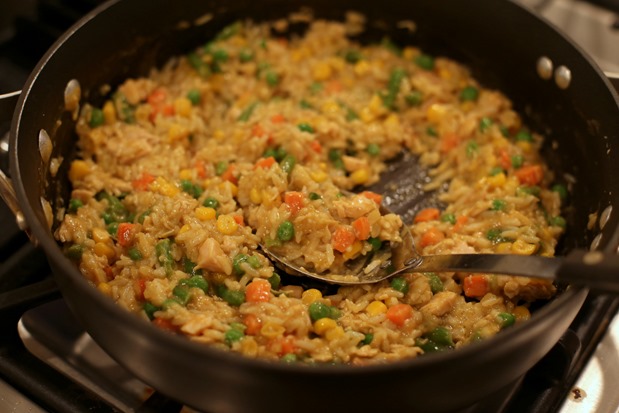 Not too shabby for a last-minute meal!
After dinner, craziness ensued when Ryan and Chase doubled up on Chase's PlasmaCar for some laps around the house.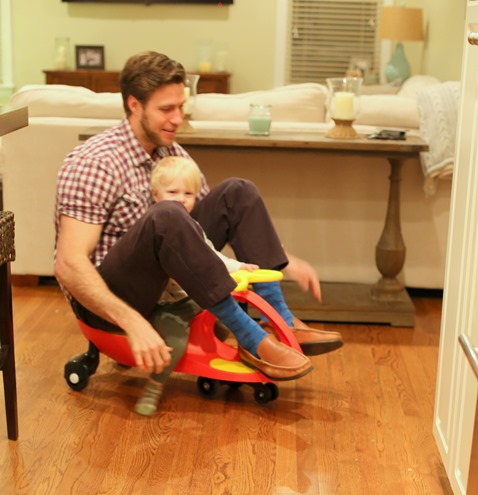 Chase took me for a ride next and I must admit it was really fun! He can really get that little car moving!
Before settling in for the night, we did our usual routine of jammies, books, prayers and "Bouncy Bed" (Chase and Ryan jump and roll around on our bed together every night) and then I read my book (The Lighthouse Keeper – kind of cheesy but entertaining) for about an hour before I couldn't keep my eyes open any longer.
Plans for today include the gym, Chase's return to preschool, making and photographing a couple of recipes for the blog and getting a little more work done on the computer. I hope you all have a fantastic Wednesday!
The post First Tuesday of 2018 appeared first on Peanut Butter Fingers.
from Health & Wellness https://www.pbfingers.com/first-tuesday-of-2018/