Friday is HERE! WOOP! I am so pumped for this weekend because my mom and sister are driving in town and will be arriving this evening. The visit popped up at the last minute – my mom couldn't stand being away from Chase and since my dad and brother-in-law have plans this weekend, my sister hopped on my mom's plan to drive to Charlotte. I am now one very happy daughter/sister!
My mom is planning to stay for a week and while I'll only have Leslie for three days, we'll definitely make the most of her visit. The weather should be chilly but sunny so I think we may head out to a local festival on Saturday or Sunday. We also have plans to make a mini Thanksgiving feast this weekend since we won't be together on Thanksgiving and I am SO DARN EXCITED. My main goal this weekend is to eat my bodyweight in my mom's stuffing. It's the best and easily one of my top five favorite foods EVER. My stomach is already growling.
Before I sign off to get organized and quickly wash the sheets in our guest room, I wanted to say HIIII to you guys and share my usual Things I'm Loving Friday post with ya. Below you will find a small collection of things that are making me smile this week and, as always, I'd love to hear a little bit about something you're loving right now as well.
Have a fantastic weekend!!
Things I'm Loving Friday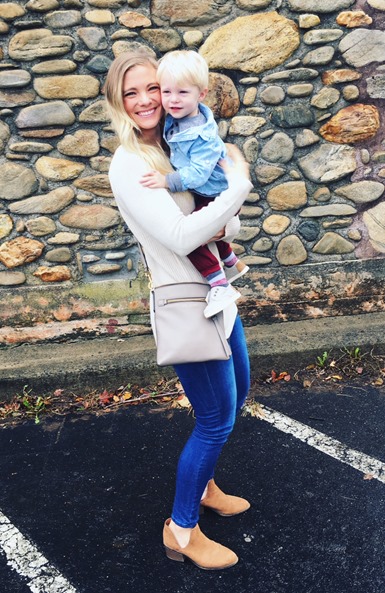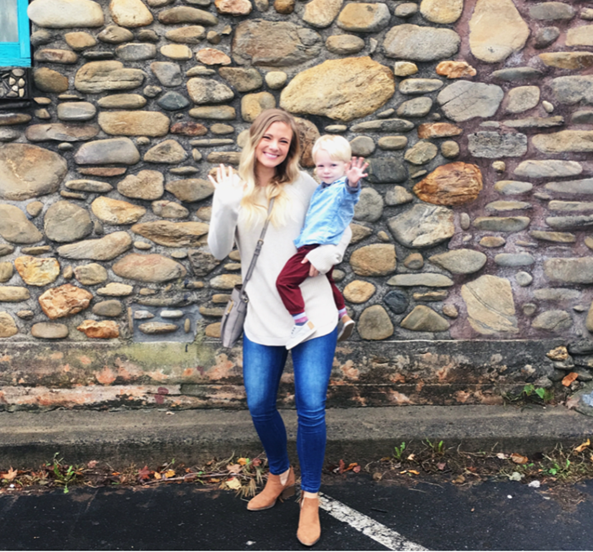 A few of you asked for details from the oversize cozy sweater outfit I work during our mountain vacation so I wanted to break everything down for you here! The sweater was actually a recent StitchFix delivery "keep" so definitely request it if you're a regular StitchFixer! (It's the RD Style Rowca Scoop Neck Pull Over Sweater.) It has a high-low hem and covers the booty so it's great to pair with leggings as well. The crossbody purse is Marc Jacobs and I LOVE it. Such a versatile color (I have it in "Mink") and it's big enough to hold a diaper and a small pack of wipes, a few snacks, lip gloss and my card case. Win! I bought it on sale through RueLaLa but it's also available on Zappos! My jeans are actually a couple years old from White Plum but they don't appear to sell them anymore. The booties have been a TILF feature in the past because they were pretty cheap but ended up being my go-to bootie last fall and winter. They're also crazy comfy and I can honestly walk miles in them. The brand is Fergalicious (I know… haha!) but the cognac color I am wearing seems to be sold out almost everywhere. I managed to find them on DSW's website in a taupe/gray color I almost like more though and they still have most sizes!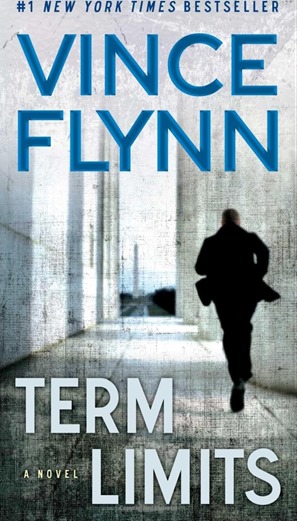 This book is making it way through my family. My dad read it first, followed by my mom and now I'm nearly finished. The book is so good and if you're into political thrillers (like Absolute Power) or enjoy television shows like House of Cards and Scandal, I highly recommend it! Term Limits begins with the murders of three high-profile politicians that all take place within a 6-hour timeframe on the same evening. A letter from the assassins is then delivered to the local media, demanding that the government set aside partisan politics and restore the power to the people. The threat of continued murders – including the president – looms if their demands are not met. Only one person has any idea what may be the source of the violence, a young congressman and ex-Marine, Michael O'Rourke. Term Limits roped me in from the start and I'm already looking forward to getting in bed and finishing it tonight!
Stranger Things: Season 2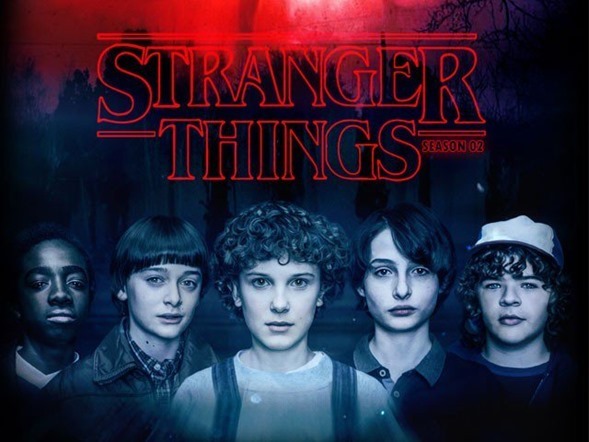 We did it! We made it through the second season of Stranger Things within two weeks. I'm not sure if we should be proud or ashamed (probably the latter), but Ryan and I both really liked the second season and looked forward to watching the new episodes together. We're always on the lookout for shows we both enjoy and Stranger Things fit the bill, though it's definitely more sci-fi and stressful than the shows I gravitate toward watching on my own. Aside from the intriguing plotline, I get such a kick out of the '80s references (and the HAIR) which definitely adds to the appeal of the show.
Quinn Movie Theatre Butter Popcorn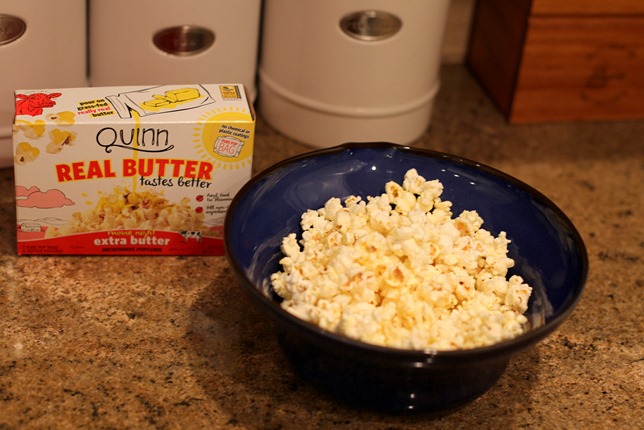 I'm pretty sure I've mentioned my love for Quinn microwave popcorn on the blog before but it continues to be a favorite in our house. Since we were a little too into Stranger Things over the past two weeks, Ryan and I couldn't resist digging into a hot bowl of buttery popcorn on more than one occasion while we curled up on the couch to watch an episode or two and unwind together. Last week was the first time I saw their new Real Butter Tastes Better line of microwave popcorn and since I'm all about salty, buttery popcorn, I grabbed two boxes to try. It's made without hydrogenated oils, flavorings and colors commonly found in microwave popcorn and the bag is simply made of paper and doesn't contain plastic or chemical coatings. The flavor rivals real movie theatre popcorn and we were instant fans in our house!
Food: 5 Make-Ahead Salads / Mini Crustless Pumpkin Pies / Golden Soup / Chicken White Bean Chili / Pumpkin Tiramisu Trifle
Fitness: 20 Minute Cardio + Core + Strength Workout / Cardio and Upper Body HIIT / Lower Body Weighted Circuit
Sales: 15% off holiday cards + 20% off foil-pressed products at Minted with code SHINE17 / 20% off at Kohl's with code TURKEY (Check out their awesome deals on Nike sneakers! Love these if you're looking for a sleek mostly black sneaker. Also, these are the toddler Nikes Chase wears almost every day!)  / 40% off everything + Extra 50% off clearance at J.Crew Factory with code THEBIG48 / $25 off every $100 at Bloomingdale's with code PRIVATE / Nordstrom Fall Sale (Fav finds: Boat Neck Sweater Tunic, Long Ribbed Cardigan, Vince Camuto Bootie and I ordered this turtleneck sweater in burgundy, these over-the-knee boots and this choker tank to wear under a long duster cardigan)
Top Blogger Dessert Recipes (A roundup of some of my favorite bloggers' most popular dessert recipes)

Upper Body Core Stack Workout (This workout builds in intensity so get ready to sweat!)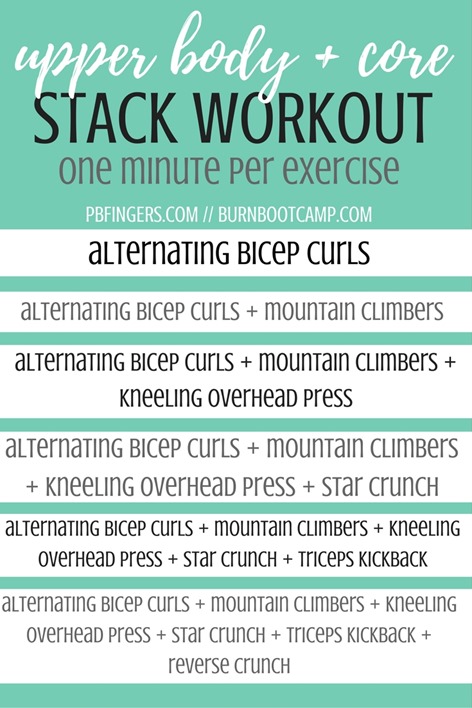 Question of the Day
What is one thing you are loving this week?
The post Things I'm Loving Friday #209 appeared first on Peanut Butter Fingers.
from Health & Wellness https://www.pbfingers.com/things-im-loving-friday-209/